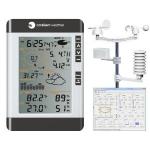 Ambient WS-2080 Weather Station
Looking for an affordable and reliable weather station with very good reviews from its owners? The Ambient Weather WS-2080 Wireless Weather Station receives very good feedback and offers a number a features similar to that of more expensive weather stations.
The Ambient Weather Station WS-2080 is a small, simple to set up comprehensive weather station with remarkable reliability at a very affordable price. The WS-2080 measures a variety of weather conditions including inside and outside temperature, humidity, wind direction, and wind speed.
Weather information is made available by use of an easy to read LCD display which can be mounted on a wall or displayed on a table or desk. You can also use the included EasyWeather PC software for additional real-time weather monitoring, to review reports, and to set-up alarms and other features of the weather station.
Additional Features
USB port for straightforward link with your computer and included software
Displays both Dew Point and Wind Chill temperature including min/max and date
Wind speed measured in mph, m/s, km/h, knots, and Beaufort
Displays Wind direction with LCD compass
Weather forecast tendency arrow
Alarm modes for temperature, wind chill, dew point, rainfall, humidity, wind speed, air pressure, and storm warnings
Provides weather forecasts based on barometric pressure
Ambient WS-2080 Wireless Weather Station Reviews
With over 88% of all owners of this weather station rating it as 4 or more stars (out of 5), feedback and reviews of the Ambient WS-2080 are outstanding overall.
Positive Reviews and Comments
Took me less than an hour to get this up and running. This is a great weather station that offers many of the same features of higher end devices at a great price. Highly Recommended.
-- R.Q.
Great weather station for the price. If this is your first weather station (as it is mine), you won't be disappointed. I'm not sure if everything is 100% accurate, but for the most part it seems to work great.
-- A.B.
Very easy to assemble and to connect to a computer. Works perfect for getting temperatures in our backyard garden area.
-- K.J.
Negative Comments
Temperature readings are off in sunny conditions without a temperature solar radiation shield
-- R.C.
All sensors must be mounted together. My old weather station allowed for sensors to be mounted separately (like in a shady area).
-- E.R.